Player Bio – Hans Niemann - American Chess Grandmaster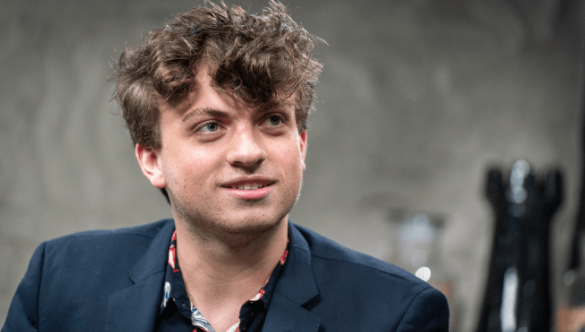 Hans Niemann. Photo: Lennart Ootes/Saint Louis Chess Club.
Full Name: Hans Moke Niemann
Born: June 20th, 2003 in San Francisco, California
Title: American Chess Grandmaster
FIDE Rating: 2637 (as of April 2022)
Rapid Rating: 2529 (as of April 2022)
Blitz Rating: 2632 (as of April 2022)
At the young age of 18, Hans Niemann is a rising young star who has certainly made a name for himself in the chess world. Hans was born in California, but moved to the Netherlands when he was 7. While there he attended the Leonardo Gifted School, and at the age of 8, began playing chess. He moved back to California when he was 10, continued to work on his chess skills (Hans is self-taught, and has never had a chess coach), and his rating quickly jumped – going from 2450 to 2650 in just over 3 years. In 2021, he graduated from Columbia Grammar & Preparatory School in New York City, which is known for its chess culture and history.
Hans earned his International Master title in 2018, and in 2021 earned his American Chess Grandmaster title. When he isn't busy playing in tournaments, Hans streams both online and over the board chess games on Twitch. His current ranking is 6th in the world of all Juniors!
Accomplishments
Hans first competed in a US tournament in December 2012. Four months later he participated in the 2013 SuperNationals.
In December 2014, he became the youngest winner ever of the Mechanics' Institute Chess Club Tuesday Night Marathons (the oldest chess club in the US). Here he earned the title of USCF Master.
At the 2016 North American Youth Championships, Hans tied for first place in the U18 category, and earned his first International Master norm.
In August 2018 he competed at the U.S. Masters Championship where he earned his second International Master norm, and his first Grandmaster norm.
Later that same month he earned his 3rd and final International Master norm at the Cambridge International Norm Invitational, meeting all the requirements for the title of International Master.
In December 2018 he won the National K-12 Blitz Championships undefeated, finishing 12-0. Three days later he went on to tie for 1st in his grade in the overall K-12 Grade Championships, while also tying for first in the bughouse duo, achieving a perfect win.
In June 2019 he won the inaugural ChessKid Games hosted by Chess.com. He had 20 straight victories and qualified for the 2020 Junior Speed Chess Championship.
Hans achieved a perfect 29–0 victory at the 2019 Grade Nationals.
In November 2019 he competed in the 103rd Edward Lasker Memorial, tying for 1st place and achieving his second Grandmaster norm.
In October 2020, at the Charlotte Chess Center & Scholastic Academy, he placed first, and achieved his third and final Grandmaster norm.
Hans won the blitz competition at the VII Sunway Sitges International Chess Festival, surpassing the 2500 ELO threshold required to become a grandmaster.
Last year, in July 2021, he won the U.S. Junior Championship title.