The Olympics are coming, and sports are on our mind.
Did you know there's a sport that combines physical strength with chess? Chess boxing combines these two extremes – both physical and intellectual stamina. According to the World Chess Boxing Organization, "Fighting is done in the ring, and wars are waged on the board". It may be an out-of-the-box combination of sports, but it's certainly impressive!
Chess boxing was invented by the French comic book artist Enki Bilal, and was adapted by a Dutch performance artist named Lepe Rubingh. It has since grown into a competitive sport, and is gaining popularity in Germany, the UK, India, and Russia.
In chess boxing you can win a match with either a knockout in the ring, or with a checkmate on the board. It pushes athletes to their physical and intellectual limits, and requires an extreme amount of focus and power. Events are held in a standard boxing ring - including the chess rounds! For the chess rounds a table, board, and seating is moved in and out of the ring. Each match consists of 11 rounds, starting and ending with chess – six rounds of rapid chess, five rounds of boxing, and a 1 minute break in-between each. Each round lasts 3 minutes. Participants wear headphones during the chess rounds to block out distractions, and the sport is played by both men and women.
The first chess boxing competition was held in 2003 in Berlin. Later that year the first world championship was held in Amsterdam, where Lepe Rubingh became the first ever World Chess Boxing Champion in the 11th round.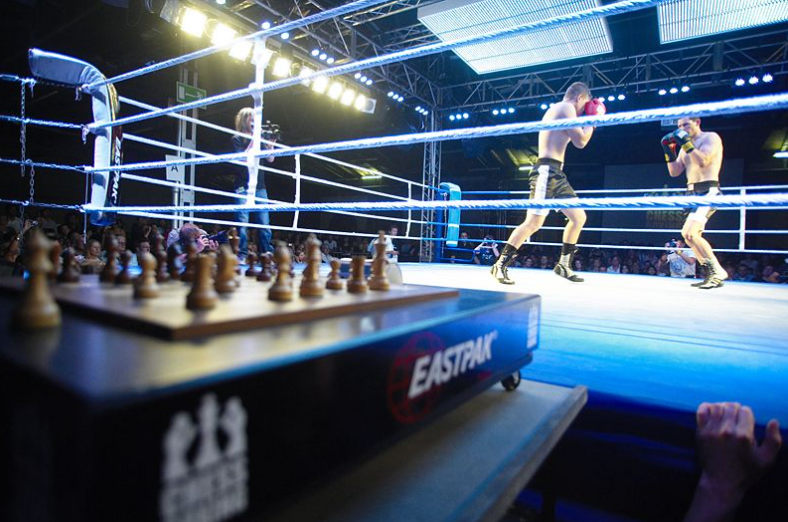 image from wikipedia.com
You can learn more about chess boxing in this ESPN feature.
https://www.youtube.com/watch?v=PeOMLxYbpPE
So what do you think of this interesting match-up of sports?