About Chess Wizards
We believe strongly that education should be fun and exciting. Since our first classes in 2002, our Chess Wizards have inspired thousands of children across the United States and Canada to think logically, solve problems, win graciously, and learn from defeat. Our academy is so successful because our approach is so unique. Chess classes and lessons are based around our original, fun, and high-energy Chess Wizards curriculum. Regardless of a child's ability Chess Wizards makes chess fun for all!
Our Team
Not everyone has what it takes to be a Chess Wizard. Our instructors are an eclectic group from many different professions and backgrounds who all combine four important qualities: a love and skill for the game of chess, a great ability to communicate, a passion for teaching, and the ability to use these qualities to create a fun and challenging learning environment for our students! If you have a question for your child's specific instructor, contact us and we will put you in touch.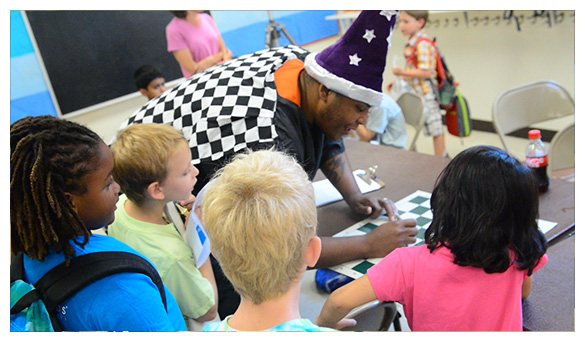 Chess Wizards has been featured in the Chicago Tribune, Chicago Sun Times, Chicago Reader, Pioneer Press, North Shore Magazine, and WGN. Check out some videos made about our chess classes! If you would like to get a copy of any of these publications please contact us at office@chesswizards.com.
These Wizards-To-Be then observe chess classes taught by Senior Wizards and are encouraged to participate and interact with the students until they get a feeling for the flow and structure of the class. During this period the new Wizards are themselves observed by the Senior Wizards, who report back to us on the Trainees style, personality, and interaction with our students. Once the Trainee feels he or she is ready, they are invited to teach their own lesson in front of a group of actual students with the Senior Wizards supervision. No Trainee is given the title of "Wizard" unless all of the kids love their chess lessons! For their first session, the new Wizard will still be paired with a Senior Wizard, and will continue to receive training throughout the session on how to be the best Wizard they can be.
How do our Chess Wizards describe their work? "I love my job," "This is the best job, ever," and "We get paid to do this?" are phrases we hear all the time! Feel free to contact us if you have a question about our Wizards, or think you have what it takes to be one!
Address: 4450 N. Central Ave, Chicago, IL 60630