Our Programs
After-School Scholastic Programs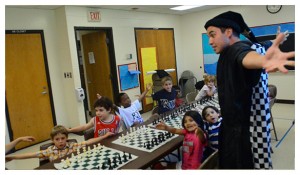 Chess Wizards offers fun, intellectual and challenging chess education and tournament experiences to children of all abilities and ages. Our chess instruction is held at participating schools, as well as park districts, churches, and chess clubs. We also offer private lessons, run scholastic tournaments, and hold chess camps in the summer. We believe learning should be fun! Kids play chess because it is fun, not because it 'is good for their cognitive, social, and emotional development.' Our students learn chess is fun on Day 1! In addition to lessons and traditional gameplay, we incorporate variations of chess games that build teamwork and foster a genuine enjoyment of a game over a thousand years old! Want to learn more about what to expect during a typical Chess Wizards Class? Read More Sign-Up and Find Programs
Camps
For many kids, Holiday, Spring, and Summer vacations are a time of extra excitement and fun, but that doesn't have to mean that their education stops when they hear the last school bell. When After-School programs end, Summer Chess Camps begin. Chess Wizards offers full and half day camps at hundreds of locations, featuring a more in-depth chess curriculum for all ability levels with many exciting activities beyond chess - indoor and outdoor - that make camp experiences so memorable. Check your region for a variety of camps available in your area and sign up your kid today! Check out our Chicago region camps by clicking on the flyer below!
Tournaments
Chess tournaments are a great way for students to make new friends while learning how to concentrate and perform in a competitive environment. Both new and experienced students will be able to have fun, play good chess in a friendly setting, and win trophies and prizes. Our tournaments are usually Swiss style, which means everyone gets to play each round, regardless of their win/loss record. We focus on creating a fun, friendly environment while maintaining the spirit of competition that makes tournament experiences valuable. First-time tournament players are welcome! Sign-Up and Find Tournaments
Community Programs
Chess Wizards offers a variety of programs to learn chess at community centers and park districts across the US and Canada. In addition to our standard scholastic curriculum, these include Advanced Chess Team classes, which provides curriculum to prepare students for state and national tournaments. Our private lessons are open to all ages. Call us to find the best instructor for you! If you have trouble finding a program at a school or community center near you, give us a call. We can always set one up! Sign-Up and Find Programs
Private Lessons
Private chess lessons are not required for success in the chess world, but there is no coincidence that most of the scholastic, national, and international tournament champions have had the help of one or more private tutors at some point during their chess careers. Our private coaches give your child the opportunity to ask questions and work on specific aspects of their game with one of our highly-qualified Chess Wizards instructors. Private chess lessons are open to all ages. Call us to find the best instructor for you!